Blood pressure (strictly speaking: vascular pressure) refers to the force exerted by circulating blood on the walls of blood vessels, and constitutes one of the principal vital signs. The pressure of the circulating blood decreases as blood moves through arteries, arterioles, capillaries, and veins; the term blood pressure generally refers to arterial pressure, i.e., the pressure in the larger arteries, arteries being the blood vessels which take blood away from the heart. Arterial pressure is most commonly measured via a sphygmomanometer, which uses the height of a column of mercury to reflect the circulating pressure (see Non-invasive measurement). Although many modern vascular pressure devices no longer use mercury, vascular pressure values are still universally reported in millimetres of mercury (mmHg).
The only way of keeping track of your blood pressure is to measure it regularly with an accurate blood pressure monitor. Be careful when you choose one because there are many types and models of blood pressure monitors available.
It is crucial that you make an informed decision about which machine to buy and will suit you best.
It is very important to monitor how your blood pressure changes over time. This way you will have an active role in taking care of your own health and it will be easier to determine what kind of treatment you need.
So we recommend a green solar blood pressure monitor to both medical professionals and home users.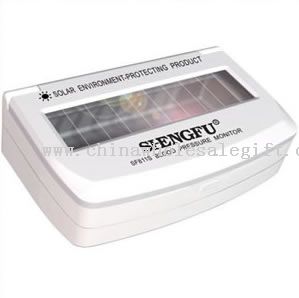 Details For this blood pressure monitor
Solar energy supplying energy
Compact and low energy consumption
Easy to operate and use conveniently
LCD digital display
Specification
Item Description
Display system Digital display system/LCD 6 digits
Power source Solar cells combined Nickel-Metal -Hydride cells 4.8V
Measuring range 0-280mmHg(Pressure);
40-200pulses/minute (pulse)
Accuracy ±3mmHg(pressure);±5%(pulse)
Pressurization Manual pressurization
Deflation Manual release
Automatic power off To be automatically cut off after 2 minutes of non use to save energy
Operating environment 10?-40?, RH?80%
Storage environment 0?-40?, RH?80%
Dimension for packing 165(L)*130(W)*78(H)/mm
Gross Weight Approx. 310g
Condition In market
Dimension of carton 550*444*317mm(30pcs/carton)
QTY 10500pcs/20′; 22050pcs/40 '