Mini fan with bird shape, new design
Unit size: 6 x 4.5 x 9cmm
Packing: 240pcs/ctn
Material: ABS
Strong wind power
Simplicity of operator
Power supply: 2 x AA battery
Safe and pvc fan blades
Power saving design
Provides cool air while working
Can be used as gift or promotional item
Logo printing services are available
best gift made in china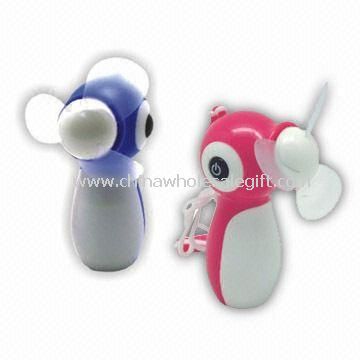 Battery operated fan is a good and useful gadget to keep out the heat as well as keep cool during the hot summer months. Depending on your location, having a battery operated fan is a necessity. There are many different types of battery operated fans available ranging from small clip on fans  to mini misting fans to the larger desk fans and  ceiling fans. Best of all, they are perfectly suited for all types of occasions as well as for both outdoor and indoor  usage.
Battery operated fans had come a long way since their inception. Nowadays, they are so small and portable that you can practically carry them around in your pocket. From non descript and boring colors to being available in all varieties of flashy colors with accompanying flashing lights to boot, you will never get bored with these gadgets. Another good reason to get one for yourself is that you can find many ways to use them from boating, camping, outdoor events, power outages, and for clipping on to vehicles and baby strollers.
During the hot summer months, battery operated fans are a must have in every household. As you probably know, the temperature in some parts of the world can go as high as 110 degrees and higher. At this temperature, it can cause a lot of health issues for many people, and especially the elderly and children. These helpful gadgets can be use to prevent heat exhaustion and overheating by lowering your body temperature by 4 to 6 degrees.
Also, if you are used to having fans and air conditioner to keep you cool during the summer months, you'll find battery operated fans a heaven sent especially during an outage in the summer months. In times of an outage, these helpful gadgets can be a real live saver.
When it comes to saving energy and lowering your electricity bills during the hot summer months, nothing beats having a battery operated fan as compare to using an air conditioner. Using a battery operated fan to keep cool is one of the most economical decisions you will ever make. Besides saving money, you can also help to save the world by using and burning less energy.