If you wear a wrist watch, then you're ready for the USB Watch – the wristwatch with the built-in USB drive. A breakthrough in space-saving design, the stylish USB Watch replaces those bulky keychain drives that are too big to be convenient. Carry your files without carrying anything at all! No drivers needed* – Just transfer and go. Includes software for password security system. Choose from a selection of styles and models from 128MB, 256MB, 512MB, 1GB and more.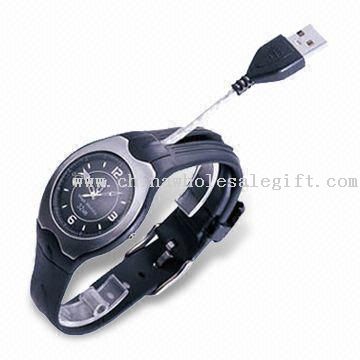 In addition to displaying the time, this watch helps you carry your valuable data with you at all times (you know – your MP3 files, favorite images, your ThinkGeek shopping list). With either 2GB or 4GB or 8GB of capacity it has more than ample storage space.
The USB Memory Watch has a built-in USB connector and can transfer files to and from most computer operating systems. The USB connector is cleverly stored in the watch band and flips up for easy connecting. There is also a LED light that indicates the device status. The watch is
Detailed Product Description
Combination of watch and USB, portable and reliable
Water-, shock-resistant and antistatic
Stores anything including music, photos and files
Compact USB connector makes the belt soft and comfortable
Plug-and-play compatible, no drivers needed for Windows 98 and higher, no cable needed for the connection to PC
Download the driver for Windows 95 from the bundled CD
Individual security setting, free distribution of public area and security area
LED status indicator
High-quality flash memory ensures the safety of the data
Fast reading and writing speed
Maximum 10 years life time
64MB up to 2GB memory size available
Packing:

1 piece/window box
50 pieces/carton
Carton size: 44.5 x 44.5 x 21.5cm
Net/gross weight: 5.4/6.4kg
surprisingly sleek and lightweight – it is not a bulky watch. The band is comfortable and very flexible.