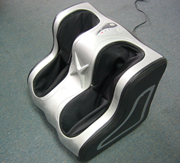 Sit back and relax while stimulating circulation with the Total Leg and Foot Massager
Get a totally therapeutic foot and leg massage every day… in the comfort of your home!
What better way to relax at the end of a long day than with a foot and leg massage! This professional quality massager is a safe and convenient way to relieve tension and fatigue from aching ankles, calves and feet, as well as improve circulation and muscle tone. Simply take a seat in your favorite chair and treat yourself to a soothing massage.