This LED mood bowl is a perfect center-peice or mood light when you are entertaining, or just for a little ambiance when you're relaxing. Plug it in with the supplied mains adapter and it will fade through a whole spectrum of colours, glowing from within. Seen a colour you really like? No problem, just press 'Pause' and the light sequence will freeze on the current colour until you 'un-pause' it again.
Of course you can switch it off and have just a high-quality white frosted glass bowl, but that wouldn't be quite so interesting. This bowl is wide and shallow making it ideal for displaying fruit or sweets etc and it's water-tight making it perfect for floating candles as well.
The outer diameter is 30cm (12 inches) approx and the bowl stands 12cm (5 inches) tall. Of course the base and walls are good and thick to let the colour-changing light spread inside the bowl. So the inner diameter is 21 cm (8.5 inches) and the inner depth is 6 cm (2 inches).
* Colour changing LED lights
* Stylish frosted white glass bowl
* Mains adapter included
* Gently fade or pause on one colour
Add a bit of glow to your centerpeices or even your fruit!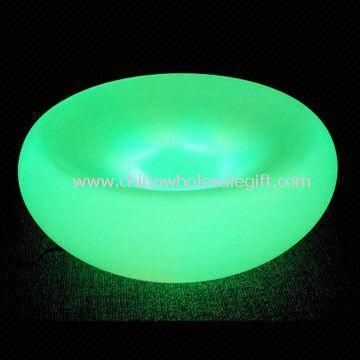 * led fruit bowl
* Material: glass
* light source: RGB LED
* Power type: adapter 7.5V DC
* Function: seven colors change automatically, fix color
* With remote control
* For indoor use only