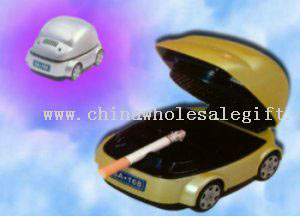 Features:
Keeps the environment clean and the air fresh.
Remove cigarette smoke and odors from home or work environment.
Protect loved ones or friends from second hand smoke.
Best gift for both smoker and non-smoker, receiver and sender.
Makes you a smoker as merry as a deity.
Ideal for:
Home, Office, conference rooms, guest rooms, research Offices, hospitals, restaurants, Bars etc.
Coffee shops, beauty parlors, Barbershops, Basements and any other enclosed area.
Features of Activated Carbon Ashtray:
Removes smoke at its source
Energy saving through infra-red sensor
Super absorbent activated carbon filter
High frequency motor fan
Various shapes and unique designs
Practical, fun and convenient
Features of Negative-Ion ashtray:
Noiseless: No moving parts, quiet, safe and thoroughly dependable.
Odorless: Creates No odor or Excess Chemical Products.
Saves Money: Costs only a dime per month.
Less Trouble: Specially designed for continuous use. Enjoy it 24 hours a day.
Convenient: AC/DC power source.
Name: Mini-Car Shape Model: TD-SA168 Spec.: 13.5*9.7*8.2 Package: 13.8*10.7*9.3 Weight: 220g Battery: 2pcs AA Battery Material: ABS&Bakelite